Airport customs handbook
I - DEPARTURE INFORMATION: departing passengers from Congo
In addition to the other security checks, customs officers may weigh and inspect all outgoing baggage. Departing travellers are therefore required to identify their baggage for inspection by the custom officers. Airport departure tax is included on your airline ticket.
ITEMS YOU WILL NEED TO DECLARE AS YOU DEPART

Currency exceeding US$5.000 or its equivalent MUST be declared at customs before departure.
Unworked precious metals and precious stones.
II - ARRIVAL INFORMATION: passengers arriving in Congo
WHAT YOU NEED TO DECLARE UPON ARRIVAL IN KENYA

Items you purchased and are carrying with you upon return to the Congo.
Items you inherited while abroad.
Items you bought in duty-free shops, on the ship, or on the plane beyond the allowed limits.
Repairs or alterations to any items you took abroad and then brought back, even if the repairs/alterations were performed free of charge.
Items you brought home for someone else including gifts.
Items you intend to sell or use in your business, including business merchandise that you took out of the Congo on your trip.
Currency above US$5,000 or its equivalent MUST be declared at customs upon arrival.

You must state on the Passenger declaration form, in $US, what you actually paid for each item. The price must include all taxes. If you don't know for sure, estimate. If you did not buy the item yourself - for example, if it is a gift - estimate its fair retail value in the country where you received it.

Remember: even if you used the item you bought on your trip, it's still dutiable. You must declare the item at the price you paid or, if it was a gift, at its fair market value.
> RESTRICTED ITEMS:

Unworked precious metals and precious stones, ivory worked or unworked, spent cartridges, historical artifacts...

Exemptions

Consumables in small amounts of 1 liter of alcohol, a 250cl of perfume, 50 cigars, 200 cigarettes or 250g of tobacco are allowed duty free.
Contact
DIRECTION GENERALE DES DOUANES ET ACCISES (DGDA)
Administration de l'économie et des finances
Boulevard du 30 Juin Place "ROYAL" -
Quartier Royal Gombe - Kinshasa
Tél : +243(0)81 43 29 200 - +243(0)81 35 84 059 - Fax : +243(0)81 34 98 536
WEATHER IN KINSHASA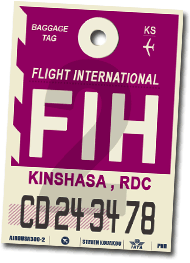 Log in

Contact us

About

2013-2019 Aeroport-Kinshasa.com.