Kinshasa international airport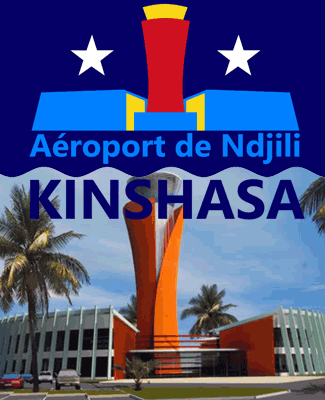 Kinshasa-Ndjili International Airport is the largest airport of DRC. Its international code (IATA code) is FIH. You can see it on your luggage labels when you take a flight to Congo.
The history of Kinshasa-Ndjili Airport dates back to 1953 when the opening of the runway and of the first technical buildings enabled the Belgian national airline Sabena to become one of the leaders in the air transport in Africa.
The first companies in the history of the independent Congo (Air Congo and Air Zaire) were also among the first to operate what was long one of the longest runways in the world with its 4700 meters.
Today, in addition to numerous international companies, all the Congolese companies serving the various localities of DRC fly to Kinshasa-Ndjili.
To accompany the increase in passenger traffic, new infractructures have been inaugurated in recent years making Kinshasa-Ndjili one of the most modern and welcoming airports on the continent.
A new 35-meter tower with futuristic design was first erected at the same time as new technical premises and a fire station meeting the international requirements.
A brand new terminal was opened to the public on June 25, 2015. This new terminal, whose qualities have been hailed around the world, offers passengers all the comfort guarantees of a modern airport and now attracts passengers from Angola and Congo Brazzaville.
The airport hosts nearly fifteen international airlines and is an important stopover for many cargo companies. There are over 50 international and domestic direct destinations.
| | |
| --- | --- |
| | The reception of departing and arriving travelers makes of Kinshasa Ndjili one of the nicest airports in Africa. Accessible sanitary facilities, shops, parkings, bars and air-conditioned hall allow passengers to wait for their flight in the best conditions. |
| | |
| --- | --- |
| | In order to facilitate your trip, we advise passengers to take all necessary measures to be in compliance with sanitary, custom and administrative requirements (passport, visa, etc..). |
Check the flight display board for arrivals and departures at the Kinshasa airport. Stay informed of delays and cancellations bookmarking this page :