Flight delay certificate
Your flight has been delayed and you want to be compensated by the airline or enjoy the benefits and compensation offered by your travel insurance or that of your credit card?
You can get online from this page a certificate indicating the scheduled departure and arrival times as well as the exact delay observed at the departure and arrival of the flight.
This secured certificate includes a link to verify its authenticity online on this website.
PRICE : € 8 (CDF 16 041) >>> Credit card payment (via Paypal)

N.B : Travelers who bought their flight ticket on Aeroport-Kinshasa.com can obtain a certificate of delay for free.
* Insurances of credit cards (Visa, Mastercard, American Express) often offer guarantees in case of flight delay. These guarantees differ depending on the bank and the type of card.
WEATHER IN KINSHASA

Temperature: 24°CModerate rain at times
Humidity: 86%
Wind: NNW at 7km/h
Detail & forecast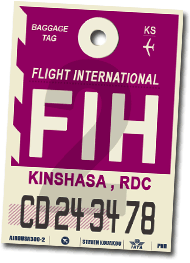 Log in

Contact us

About

2013-2019 Aeroport-Kinshasa.com.