Maps of Kinshasa Ndjili airport
Kinshasa-Ndjili Int. Airport is located about 20 kilometers southeast of Kinshasa and bears the name of the river and the municipality that lie to the West. It extends over an area of about 9 km² along a forest and marshy area bathed by Congo River. Access to the capital and the districts of Kinshasa is via the 2 x 3 lanes Lumumba boulevard.
WEATHER IN KINSHASA

Temperature: 24°CModerate rain at times
Humidity: 86%
Wind: NNW at 7km/h
Detail & forecast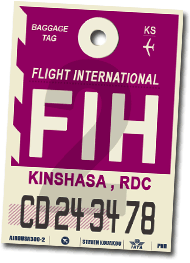 Log in

Contact us

About

2013-2019 Aeroport-Kinshasa.com.